Co-curricular
We encourage our pupils to explore new activities in order to find something that they are passionate about and that they enjoy doing. We have a wide variety of Co-curricular activities for all students to enjoy and everyone can get involved. When we can see the enjoyment students get out of participating in our activities, we feel very proud because we have introduced something into their lives that they may enjoy for a long time.
These activities can teach students valuable life skills. Getting involved in situations that put them out of their comfort zone in order for them to adapt to new environments is the best way to develop. When people adapt, they improve, they get used to more situations and in future, these skills will benefit them massively. Simple activities such as team sports can dramatically improve communication skills as you constantly have to listen to information and give advice to your team as well. These activities also build leaders, people who step up when situations look bad. These people are valuable as they get the job done regardless of the situation.
People can make new friends due to activities like this. They can find peers who share the same interests as them. This is a great opportunity for pupils to make friends and build a greater social life. This is one of the reasons we would hope you encourage your child to come along to one of our activities because we want them to enjoy coming into school to see their friends and have a more enjoyable time.
Clubs & Societies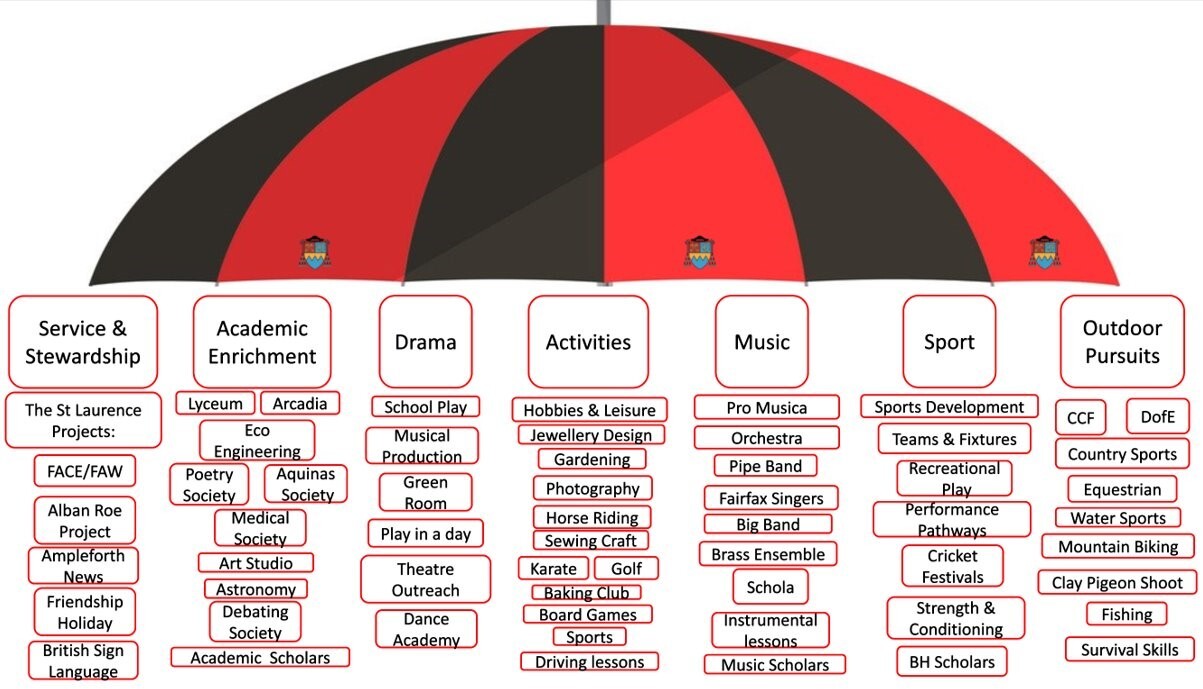 At Ampleforth College we encourage all our students to engage in a range of activities whether they are physical, creative or cerebral. Every student, regardless of age and gender, is encouraged to participate in at least two activities each week (three for Juniors). Activities take place daily after school in addition to a separate Friday afternoon co-curricular timetable. The Friday afternoon timetable prioritises activities that are outside of the usual academic routine and allows our students to engage in an interest with sufficient time to make real progress. This afternoon slot also allows our students to recharge and restore their personal batteries. Doing something completely different to the norm provides a crucial break from studies and is an important means by which young people can maintain their sense of mental well-being. Post-Covid online learning has highlighted the importance of Cocurricular for students' and parents' well-being, personal growth, friendship, fitness and enrichment.
Weekend Programme
There are always a range of things to do on a Sunday afternoon from playing games, visiting local sites (eg Helmsley ice cream, a walk on the moors, surfing and fish & chips at the seaside), outdoor activities (eg clay pigeon shooting, kayaking) going on a Tuck run and heading for a trip to York. In these uncertain times. we are mindful of all Covid Restrictions and therefore our Sunday program may change at short notice. Individual Houses also offer trips, socials and special events so please do follow the social media pages for your child's House for up to date information about all that happens at Ampleforth.
Service, Stewardship and Charity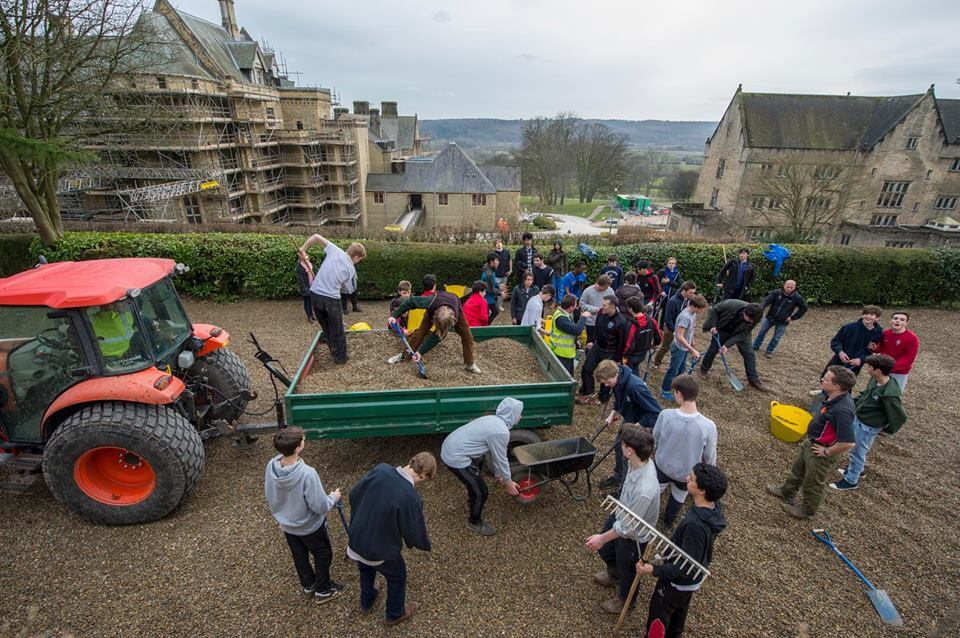 All our students are encouraged to participate in some form of stewardship and service in line with the Benedictine tradition of our school. Many of the activities and opportunities at Ampleforth fall within our activities and enrichment programme and so each child is afforded the opportunity to engage actively at some point in their Ampleforth Career. In Year 12, all our students must participate in at least one service activity for the school year. These service and stewardship activities are known as the St Laurence Projects and some great examples include the St Alban Roe Project, FACEFAW, The Friendship Project and Gardening service. The full range of service activities are included in the Activity Booklet which is published after the Activities Fair at the end of the first week of school.
FAQs
When are the week day activities?
After school activities begin at 5pm after lessons and can last up to an hour for Y7-10 and up to an hour and a half for Y11-13
Some senior activities take place in the evening after prep or prayers
Lunchtime activities take place before of after a students House lunch sitting
Can Day students stay for clubs?
Of course! We encourage all our students to enjoy the Cocurricular side of school and all the opportunities that Ampleforth can offer.
Does every student have to do an activity? How many should they do?
All students must choose a Friday afternoon activity
Y12 Students must choose a Service Activity as one of their activities
Y7/8 Boarders will do an activity every evening (Day students may join these and should aim to choose up to 3)
Y9 must choose a minimum of 3 activities (may include Team Run)
Y10/11 should choose a minimum of 2 (may include a GCSE/academic activity)
Y12 Should choose a minimum of 2 (may include a late evening activity/Society) and one must be a service activity
Y13 must choose a Friday afternoon activity (may be an academic activity). All other activities remain optional.
Is there an additional cost for activities?
The majority of our activities are free to students. There are some activities that do incur costs for materials/equipment etc (eg Cookery course, DofE fees) and information about these costs can be sought from activity leaders or the Director of Cocurricular
What is the Cocurricular Afternoon?
Every Friday, the whole school comes off timetable for the entire afternoon. We have lunch, tutorials and then afternoon activities until 4.30pm. This allows students the opportunity to engage in something of interest without time pressures and allows our students time to 're-set'. This time also means that our service students can go out into the community and engage in some meaningful work with those in need.
Are there things to do at the weekend?
Yes! We have a Weekend programme that includes Saturday evening socials and Sunday events, trips and House competitions. All students are invited to sign up to these.